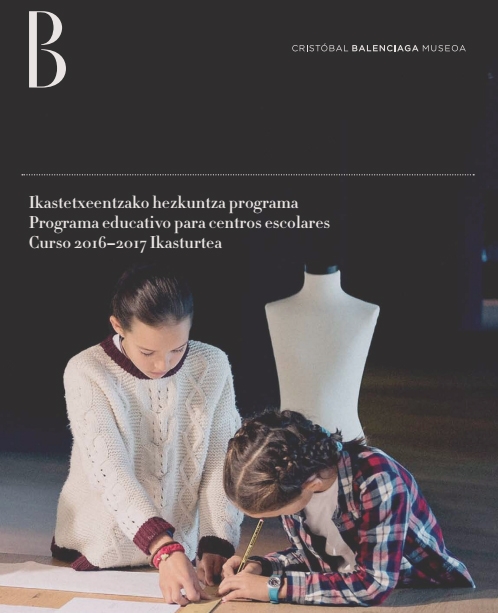 Client: Museo Cristobal Balenciaga, Basque Country, Spain.

Year: 2016 / + info


MODA Y ELECTRÓNICA CREATIVA es una actividad dirigida a alumnos de Educación Secundaria que se enmarca dentro del programa educativo  2016-2017 para centros escolares del Museo.

Dise

ñ

o de actividades STEAM para museos
Cosultor

í

a sobre nuevos materiales y electrónica textil.
Formaci

ó

n a intructores del departamento de educaci

ó

n

.MODA Y ELECTRÓNICA CREATIVA  is an activity focus to students of Secondary Education that is part of the educational program 2016-2017 for schools of the Museum.

Design STEAM-based museums activities

Pedagogical advisor for the STEAM activities design.
Training to the instructors of the education department in the field of e-textiles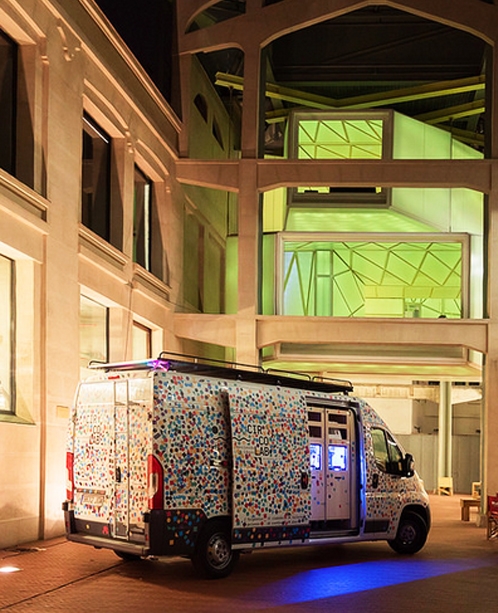 Client:  BQ Mundo Reader S.L, Madrid, Spain.

Year: 2015 /+ info


CIRCOLAB es el laboratorio de experimentación educativo y tecnológico itinerante impulsado por la empresa española fabricante de teléfonos móviles BQ 
Facilitar las actividades del proyecto /Experience design


Aplicación de la metodología educativa STEAM

Aplicación de los conocimientos en e-textiles

Llevar a cabo las actividades para la placa Miniblip

Documentación de tutoriales para los usuarios del tour


.CIRCOLAB is the laboratory of educational and technological experimentation itinerant launched by Spanish mobile brand BQ.
Design the project activities / Experience design

Application of STEAM educational methodology

Application of knowledge in e-textiles

Design activities for the Miniblip board

Documentation of DIY tutorials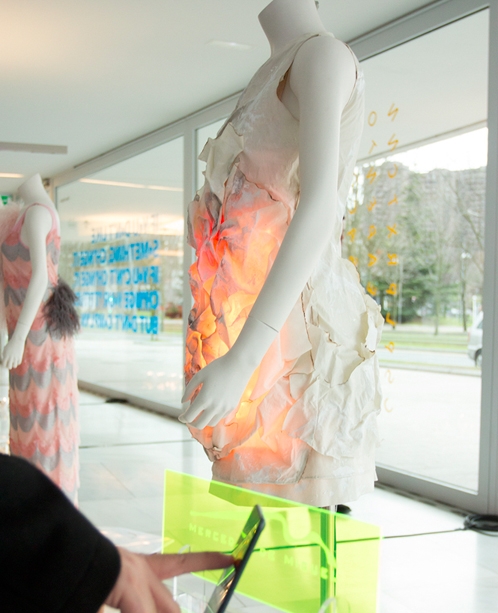 Client: Bilbao Ekintza, Basque Country, Spain.

Year: 2014-2015/+ info


Bilbao Fashion Tech Lab es un proyecto que busca crear un ecosistema favorable al uso de las nuevas tecnologías wearables como nicho de oportunidad para el sector de la moda y la tecnología.

Diseño e ideación del proyecto "Five prototypes"

Aplicación de los conocimientos en e-textiles

Coordinación a empresas de moda para el desarrollo de un producto wearable

Diseño e impartición de talleres de e-textiles

Diseño de Identidad Corporativa y logotipo



.
Bilbao Fashion Tech Lab is a project that seeks to create an ecosystem favorable to the use of new wearable technologies as a niche of opportunity for the fashion and technology sector.
In 2014, the City Hall of Bilbao invited me to be one of the experts to design and coordinate the BFT Lab project. The goal of the project was to work with local maker technologists, universities and fashion companies, to create and enable the use of new technologies such as wearables. This was a niche opportunity for the fashion industry and technology ecosystem in the city of Bilbao. 


BFT Lab presented an opportunity to generate potential job openings in Bilbao, fostering connections between fashion, design and technology professionals. As a part of this project, I designed 5 protoypes for the program in order to assist 5 different companies with developing their first technology prototypes, so they could later be commercialized.
I also ran a series of workshops for multiple universities, where at least 100 people received introductory training on new technologies, e-textiles and methods for use in interactive design.
Design and develop the project "Five prototypes"
Application of knowledge in e-textiles
Coordination to fashion companies for the development of wearable tech products

Design and teaching e-textiles workshops

Develop the corporate Identity Design and Logo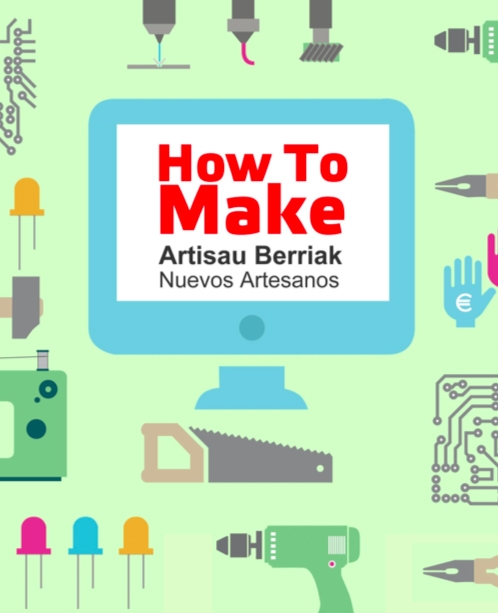 Client: Hirikilabs. Open citizens laboratory in CICC Tabakalera. Basque Country, Spain
Year: 2012-2015 / + info

How To Make es un encuentro mensual de ciudadanos interesados en conocer la cultura maker.

Impulsar una comunidad local activa de makers


Seleccionar  temas e invitados vinculados a la cultura maker

Impulsar la formación y de reflexión teoría-crítica en torno a la Web 2.0 , el  software/hardware DIY,el dise

ñ

o colaborativo, el crowdfounding o la educación STEAM
 .
How To Make is a monthly meeting of citizens interested in knowing the culture maker.

Encourage an active local community of makers

Select themes and guests linked to the culture maker

Promote training and theory-critical reflection around Web 2.0, DIY software / hardware, collaborative design, crowdfounding or STEAM education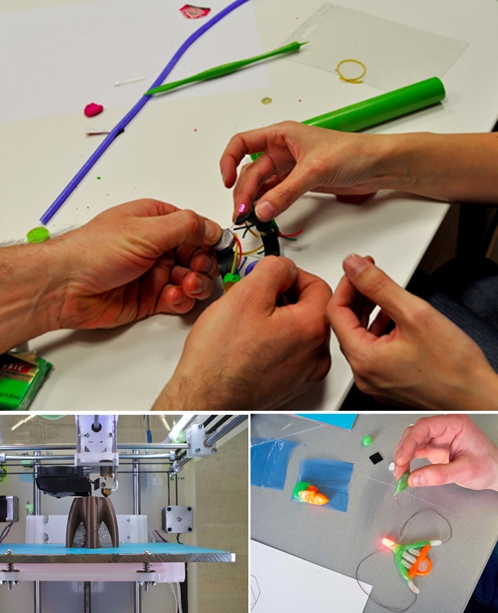 Client:  Conexiones improbables, Basque Country, Spain.

Year: 2012-2013/ + info

Think in silicone. Conexiones improbables es una plataforma que facilita colaboraciones entre artistas y empresas. En esta plataforma colaboro con la empresa de Siliconas para desarrollar un tipo de silicona que pueda ser usada en impresoras 3D.
Apertura de una nueva línea de investigación I

+

D

Formación sobre fabricación digital  e impresoras 3D

Talleres de prototipado y nuevos materiales

Desarrollo de una linea de negocio vinculada a la cultura maker
.
Think in silicone. Conexiones improbables is a platform that facilitates collaborations between artists and companies. I collaborated with a Silicone company to develop a type of silicone that can be used in 3D printers.
 

R&D for a

new product research and development.



 T

eaching principles and applications of digital fabrication and 3D printers




  Prototyping workshops and new materials

  Development of a line of business linked to the culture maker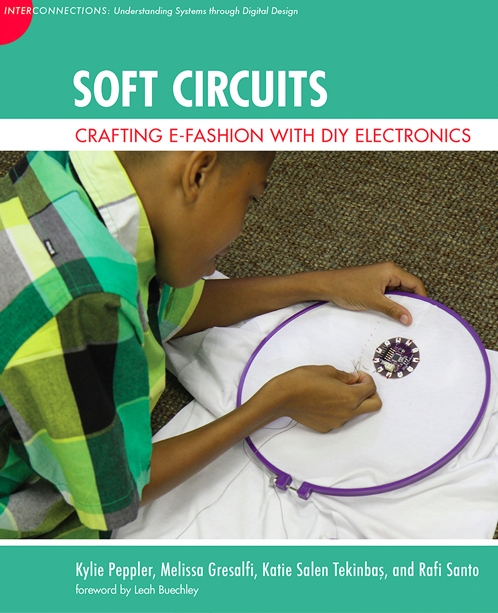 Client: Institute of Play, Q2L, New York.

Year: 2011-2012 / + info

Short Circuit es un programa educativo en donde sus participantes aprenden a descubrir usos innovadores de materiales físicos y digitales.
Impartir y diseñar un plan de actividades STEAM

Contribuir al desarrollo del programa durante un a

ñ

o escolar

Diseñar contenidos para los libros Short Circuits y Soft Circuits publicados por el MIT Press.
.
Short Circuit is an afterschool program that aims participants to explore and discover innovative uses for physical and digital materials.
Teach in a functioning afterschool design studio
Design and  piloting a STEAM curriculum for k12

Experimentation with  e-textiles and new design and technology materials


Teach use of graphic design as factor in inter-disciplinary  and technology-based projects

Development of design workshops for parents and young

Contributor Short Circuits and Soft Circuits both at The MIT Press.