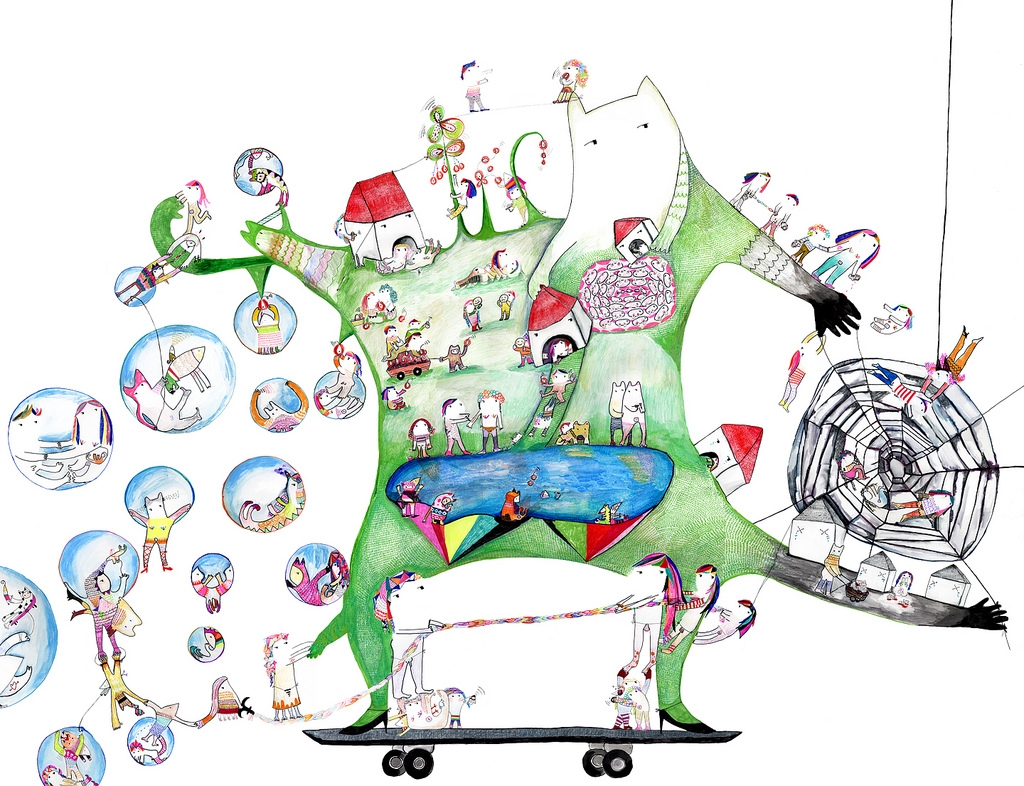 "Tales of contemporary somnambulism"  A cartographical exploration of dreamscapes and the seas of sleep
Show at The Sheila C. Johnson Design Center , 2011, New York.
The interest of this Thesis is to explore the relationships that exist between Art, Design and Technology by the use of new conductive materials and physical computing  tools into a traditional mural painting. By integrating Fine Arts media with electronical elements  I aim to start an  investigation for teaching to animate painting and illustration to others  but also to linked  to the virtual realm.
Tales of contemporary somnambulism is an imaginary world informed by the current use of technology to attempt to satisfy emotional needs. Using new skills to extend and enhance themes and strategies of my current practice, I will follow a method of creating portraits that illustrate situational symbols inspired by dream, fantasy and technological frustrations, to be integrated into a interactive mural installation that will allow me to question deeply the analog/virtual division of artistic practices. My artistic universe will emphasize emotions over technology, or despite technology.
By recognizing a relationship of dependency between the current generation and their different technological communication tools, I want to comment on the new behaviors and emotional states that produce these situations. I want to illustrate a series of these imaginary mental moments in where technology triggers people's imagination to produces stories.
To create this representation I was inspired by Bosch's painting "The Garden of Earthly Delights". This triptych depicts the history of the world and the progression of sin.  It is composed of three parts just like my mural. My goal was to bring my own contemporary interpretation to this painting. By including encounters and disencounters with technology in my observations of actual people, I created symbols and metaphors to frame these experiences within a frozen scene.  I aimed to make drawings that express how current uses of technology attempt to satisfy emotional needs, provide  "human" experiences and provoke positive feelings, but also act as a mirror of human vulnerability and vanity in the same evocative ways of Bosch's painting.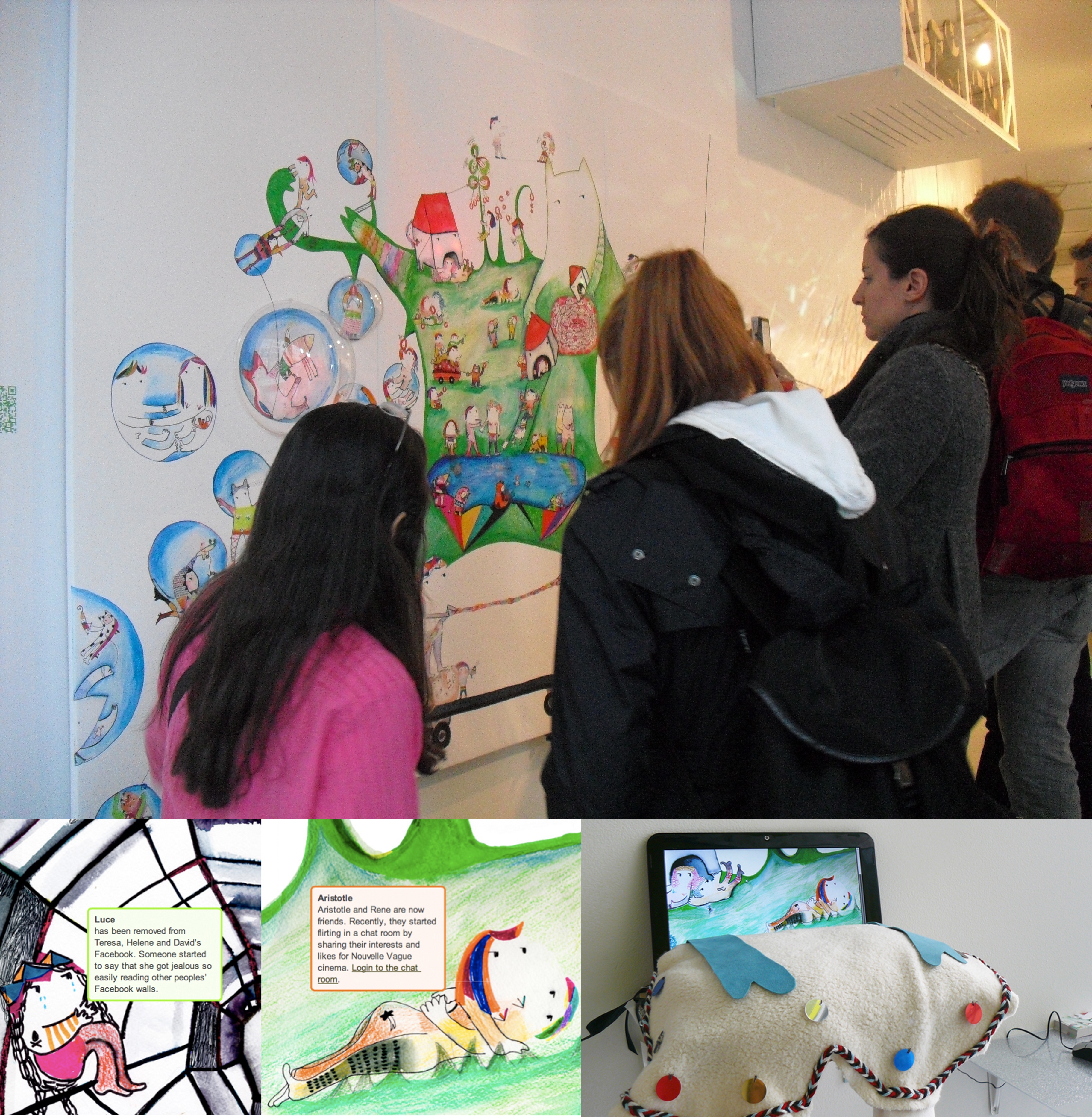 This installation combine electronics, physical computing and virtual media with traditional art techniques in order to explore new aesthetics and question new representational  possibilities. The interactive painting is composed of three main elements: the physical which is the mural, the virtual or metanarrational which takes shapes by personifying the computer, and the third one is relational, a connection path represented as footsteps and Qrcodes.
Beneath the painting  mural is the circuitry– made up of Lilypad Arduino microcontroller, LEDs , proximity sensor and conductive thread. When users get close to the mural they will activate a proximity sensor that will trigger a sequence of little lights with in the drawings. Also,with your phone taking a picture of a QR Code that is near of the mural will also automatically link you to a interactive digital storytelling.