DIY E-textiles & Wearable Technology

________
▼ DIY resources/ recursos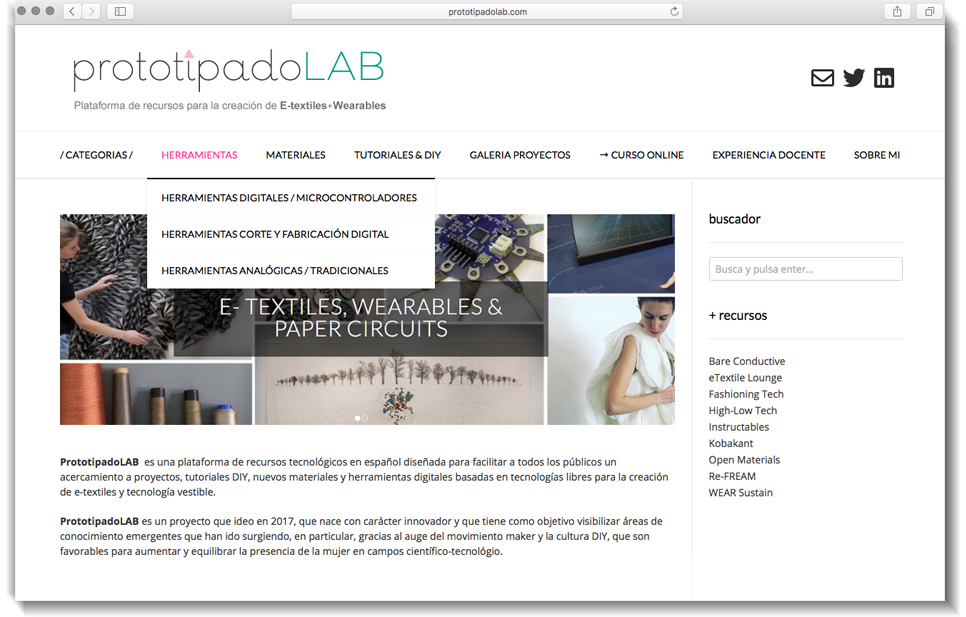 .
PrototipadoLAB is an tech resource platform written in Spanish designed to facilitate an approach to projects, guides, DIY tutorials, new materials and digital tools based on open source technologies for the creation of e-textiles and wearables.

PrototipadoLAB is a project that I launch in 2017 with the goal to make more accessible emerging fields that already are considered very important to increasing women's presence in developing technology and innovation.

---
PrototipadoLAB una plataforma de recursos tecnológicos escrita en español diseñada para facilitar un acercamiento a proyectos, tutoriales DIY, nuevos materiales y herramientas digitales para la creaón de e-textiles y tecnología vestible.
PrototipadoLAB es un proyecto que ideo en 2017, que nace con carácter innovador y que tiene como objetivo visibilizar áreas de conocimiento emergentes que han ido surgiendo, en particular, gracias al auge del movimiento maker y la cultura DIY, que son favorables para aumentar y equilibrar la presencia de la mujer en campos científico-tecnológicos.