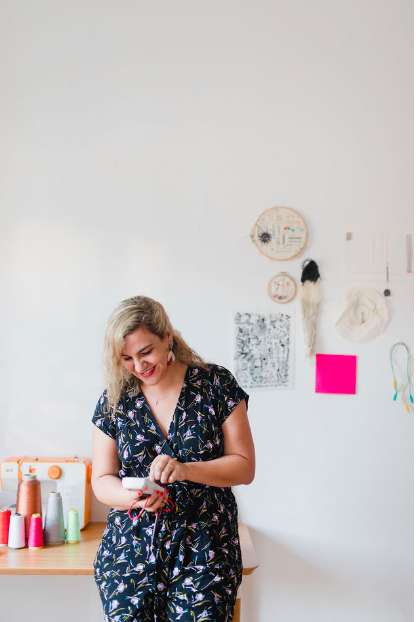 Educator, Creative Technologist and Designer 
________
My name is Paola Guimeráns and I am an E-textiles education specialist and an Interaction Design and Wearable Technology expert.  I hold a bachelor's degree in Fine Arts at the University of Seville, an MFA Design + Technology at Parsons School of Design in New York, a Master's Degree in Educational Innovation at European University of Madrid and a Ph.D. degree at the Complutense University of Madrid.

Among others projects, I am the founder of the innovative educational technology project Aula STEAM and the author of the online tech resources platform PrototipadoLAB. Since 2011 I had worked as a professor  for universities such as Parsons School of Art and Design (NY), Istituto Europeo di Design (Spain), Institut Supérieure des Arts de Toulouse (France) or the American University of Sharjah (United Arab Emirates). For a decade I have participated in national and international conferences such as the Make Education New York World Maker Faire, Conference on Tangible, Embedded, and Embodied Interfaces TEI13, INTED12 The annual International Technology, Education and Development Conference, IATED International Academy of Technology, Education and Development conference. My artwork has been displayed in centers such as Eyebeam Art+Technology Center NY, Medialab-Prado Madrid, SONAR/MACBA Barcelona, MAC Museo de Arte Contemporáneo Gas Natural Fenosa de a Coruña or Ventana244 Art Space Brooklyn NY.

---
Doctora por la Universidad Complutense de Madrid con una tesis sobre "E-textiles y Educación". Máster en Diseño y Tecnologia por la Parsons School de Nueva York, Máster en Educación Innovativa por la Universidad Europea de Madrid y Licenciada en Bellas Artes. Especialista en enseñanzas STEAM y experta en Diseño de Interacción y Textiles Inteligentes.
Desde hace más de una década trabaja como asesora en innovación educativa desarrollando proyectos para instituciones y empresas privadas como Inditex, el Departamento de Innovación de BQ, el Museo Cristóbal Balenciaga, la Consejería de Educación de Madrid, la Fundación Barrié, o la Xunta de Galicia. También, es profesora para universidades como la Parsons School of Art and Design, el Istituto Europeo di Design o la Universidad de la Rioja. Entre otros proyectos, es la autora de la plataforma de recursos tecnológicos PrototipadoLAB y la impulsora de la iniciativa educativa Aula STEAM. Ha impartido en el ámbito nacional e internacional numerosas conferencias.
.